Research done by PMI (Project Management Institute) reveals that the success rate of IT projects within organisation that do not give adequate importance to IT Project Management resources have a project failure rate as high as 66%. On the other hand organisations that give IT project management the necessary attention claim a success rate of 89%. Project success is defined as projects being completed on time, on budget and meeting the original business goals.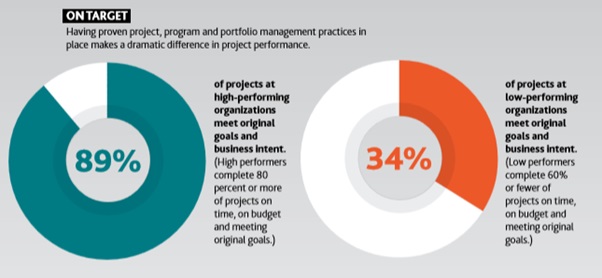 Furthermore, data from the latest 2019 Pulse of the Profession® survey show that organisations waste almost 12 percent of their investment in mitigating poor project performance and this has remained the trend for the past 5 years.
Successful projects are a result of ensuring that certain critical factors are in place throughout the full project life cycle and that the project management leadership keeps a steady guiding hand to ensure that business objectives are always the overriding goal of the project.
"There's no super-secret formula to project success. PMI's Pulse of the Profession® data show what it takes: Engaged executive sponsors, projects aligned to organizational strategy, control over scope creep. And certainly, organizations must value project management."
Pulse of the Profession 2019 (2019) – https://www.pmi.org
A lack of time and planning, an absence of resources and insufficient budget are all common reasons for failure of IT projects. Particularly, the lack of a competent hybrid Business & IT Project Manager who takes the time to understand the business environment and focuses on the business deliverables, as well as the technology to be implemented, is a key and recurring, problem. Communication is a must for completing a project on time and, without a focused project manager, the project will likely become disjointed and ambiguous. The probability that such a project will make it to meeting the originally planned business objectives become remote.
Lean Management Techniques
The manufacturing industry has established itself as a leader in the implementation of projects and technology and over the past decades has tuned and perfected various lean management techniques intended to keep projects on target and solutions aligned to the original problem case. One such tool that can be applied to IT Project Management is called DMAIC.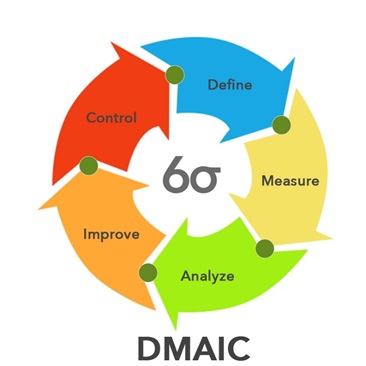 DMAIC is a problem-solving methodology defined within the Lean Six Sigma program (more about Six Sigma https://en.wikipedia.org/wiki/Six_Sigma). It consists of five Phases: Define, Measure, Analyse, Improve and Control.
Therefore, how can we apply this to an IT project?
Define
Define clearly the problem area that is being addressed through review sessions with all stakeholders, establish the project goal and establish the project boundaries. Ensure that the project has a high-level executive sponsor who endorses this requirement and is engaged in achieving the project goal.
Measure
Clearly identify and document the gap between the current and planned business performance, extract and expose the relevant metrics and establish the current state baseline metrics.
Analyse
In collaboration with relevant stakeholders, analyse the data and business processes to identify the root causes of the performance gaps and identify innovative solutions and business processes that bridge the gaps to deliver the project goal. Identify the available technologies that can achieve the desired business goal in collaboration with technology solution providers. A cost benefit analyse and define a high-level timeline is to be defined and documented to gain approval from the executive sponsor to proceed.
Improve or Implement
Develop a detailed project plan and manage the various stakeholders to ensure a successful development, implementation and change management activity. The technology implementation or development activity should be broken down into a list of small, well described, easy to estimate and sequenced tasks. Daily, weekly or bi-weekly reviews are to be organised, depending on the size and nature of the project, and the progress on the listed tasks for that period are reviewed and documented. These reviews act to provide support to the team to complete the task, learn from any deviations and continually adapt, align and improve the implementation process while keeping a clear focus on the business goals to be delivered.
Control
Once the technology is in operation the new business metrics are to be measured against the original base to ensure that the required benefits have been delivered. Some iteration of the above process steps may be necessary to bridge any significant gaps that may emerge. Control procedures also need to be implemented and documented to ensure that business processes correctly align to the implemented technology solution and implement any relevant business continuity mechanisms.
A strong focus on change and transition management and full adoption of new processes is essential. Such onboarding activities may be run as completely independent DMAIC projects themselves.
Finally, a full project dossier is to be compiled to ensure adequate and structured documentation for future development and improvements. l
Finally, a full project dossier is to be compiled to ensure adequate and structured documentation for future development and improvements.
Outsourced IT Project Management
Not all organisations can provide for such IT Project management skills in house, yet most organisation including many SMEs are embarking on IT projects to transform their business. To ensure successful outcomes such SMEs should outsource these project management requirements to a Business and IT professional who is independent of any technology or solution provider, understands the business and will take the project through the above steps, while always keeping the business needs as the final project goal.
Author: Mark Vella – https://vellacardona.com/mr-mark-vella/